Applications in industrial and commercial environments often require a more accurate form of control which is why Heatrod have introduced a new range of digitally controlled immersion heaters. The HRD range of digital industrial immersion heaters are designed so the user can select a specific temperature requirement and be confident that their process will be heated in the most accurate way.
The HRD range is designed to be heavy duty with flexibility in mind, for easy installation into multiple industrial liquid heating applications. The terminal box is proven for ease of wiring and flexible for access in all types of locations. The digital controller can be programmed and wired for both single or three phase operation. Along with the standard Incoloy sheath, we also manufacture using different levels of element sheath protection depending on the environment which the heater is being installed into.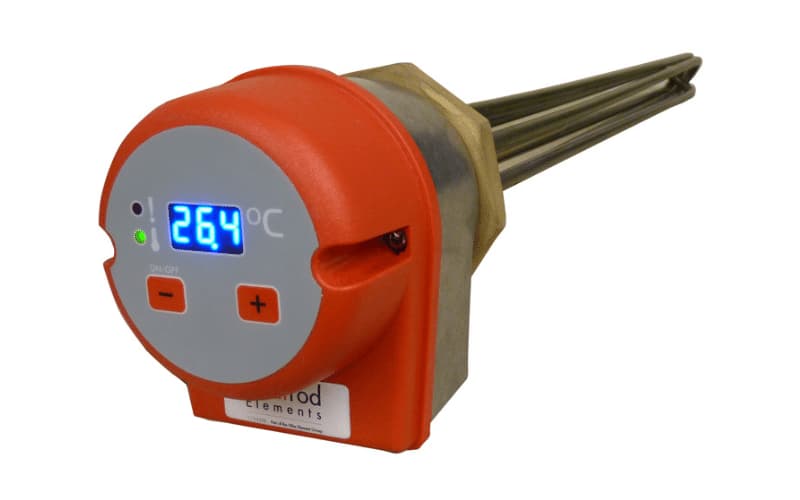 Oil heating
Brewing
Wine making
General process heating
Medium/large scale water heating
Water calorifiers (ideal for use on boats where the water is heated from the engine and standard heater controls cannot handle the high temperatures produced)
Milking & dairy systems
Sterilizers & washers
Engine pre-heating
Heavy duty
Highly accurate digital control

Hysteresis control

IP54 rotatable terminal cover
Incoloy 825 sheath
Flexible fitting & wiring options (single/three phase)
Flexible operational features (manual/fixed heat settings)
Standard or bespoke products
Electronic & manual cut-out
Adjustable electronic cut-out
Manual cut-out 82°C
External control
User can physically see if their liquid/medium is being heated
With digitally adjustable operating temperature, settings such as hysteresis control and both electronic (adjustable) and mechanical safety cut outs this unit is specifically designed for the more demanding applications required in industry. The HRD also incorporates various alarms such as no liquid detected, no heating detected, and sensor failure. This lets the user know if their tank is empty or if the heater or sensor is not working correctly.
Customers can choose from our standard range of units which are detailed here and at our online shop. Alternatively if you have a bespoke requirement please don't hesitate to either fill in our dedicated Immersion Heater enquiry form which is designed to lead through a set of requirements, or fill in our general enquiry form or just give us a call!
HRD Technical data

Material

Incoloy 800 Sheath Material (for other materials please contact us)

Loading

3-12kW, Element Diameter: 8mm

Design

IP54 robust rotatable enclosure, Heavy Duty Brass Head

Voltage

415V 3-Phase, 240V 1-Phase

Temperature range

0-75°C control, 82°C cutout

Control

Digital with or without external control input

Others

Alternative mounting option available

Not suitable for unvented applications.