Backer IoT Smart Temperature Controller
The Backer IoT Smart Temperature Controller (HRDc) from Heatrod allows the user to actively control and monitor their heating systems, wherever they are. Giving accurate control of temperature and therefore energy usage.

Developed to fill a gap in the digital control of our own heating products, the Backer IoT Smart Temperature Controller (HRDc) allows users to visualize and control energy usage and application temperatures remotely. Heating equipment will nearly always be the highest user of energy on a commercial or industrial site - active monitoring and management can quickly benefit the user through energy savings.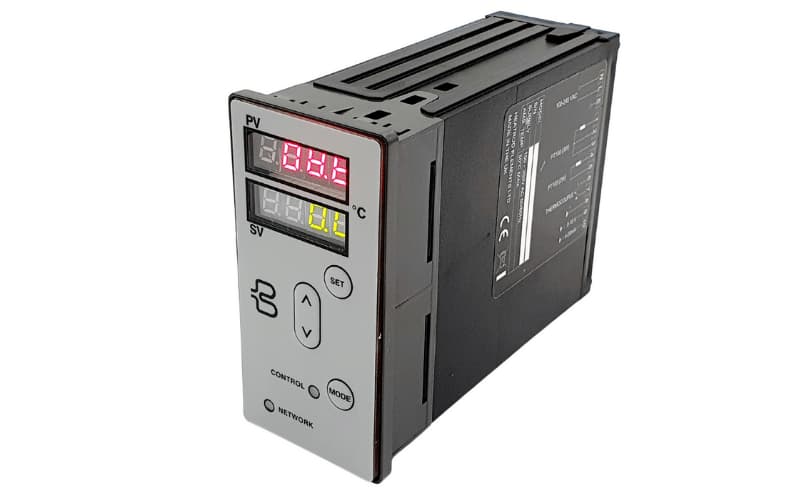 Process control
Building management
Staged heating control
Scheduled duty cycling
Remote monitoring & control
Energy management
Condition monitoring
Integrated heating
Ultimate connectivity
Logic control
Our Smart Temperature Controller is designed to be incorporated into integrated heating applications, built into our immersion heaters and also as a stand alone panel mounted independent controller. The HRDc is designed to be fitted directly into your control or instrument panel with an easy to fit flexible housing. Both process and target temperatures can be easily viewed from the front screen and alterations to the set point can be made using buttons on the front panel.
Features
Device management is a key principle in monitoring and controlling heating devices. The Backer IoT Smart Temperature Controller (HRDc) and Smart Immersion Heater (HRDi) are designed with the Internet of Things at the heart of their ability. They allow clustering of devices and management as part of a flexible device dashboard. This may be split by plant room, building or even across a global asset base.
The addition of condition monitoring as an integral feature of the controller, allows users to develop condition monitoring strategies and maintenance routines. Flexibility is key – this means the ability to connect multiple temperature sensors as well as other auxiliary signals and be able to control a variety of outputs from heating elements to pumps and fans.
The software is just as important as the hardware. Our in-depth knowledge of PID control, along with features such as condition monitoring can all be configured and monitored with our extensive suite of software.
Standard Features

| | | |
| --- | --- | --- |
| Model | Format | Sizes |
| HRDc | Panel Mount | DIN Panel Mount |
| HRDc OEM | OEM Mount | Electronics Only |




Standard Features (included)

Compliant to EN60730 (Electronic Controls to Domestic And Related)

Temperature sensing range up to 300°C

Local temperature display

Local setpoint display

Local (same network) Android App (limited functions no internet required)

Local basic button control and indication

Web browser based SCADA energy/ops dashboard

AI optimised energy consumption*

Highly accurate PID control (auto or manual)

Device access on the LAN is restricted until the device is securely provisioned

Remote switching/activation

Energy usage/trends*

Timer/scheduler - weekly, half hourly scheduler (via web browser)*

Timer functions: a standard front panel configurable mode. Operation is front panel button triggered or GPIO triggered. Supports both total heating time and time from reaching setpoint.

Date & time scheduling: now supports 3 independant PID channels + a 4th GPIO schedule. By default half-hourly granularity is supported for 4 full 7 day repeating schedules. Timings down to 1 minute granularity can be supported with fewer channels and limited scheduling points.

*Connection (ethernet) required to BAcker IoT Cloud Services required - these functions are provided at no extra cost, but a network connection is required.

Standard Network Security

Standard Network Security

Internet communication is encrypted and mutually authenticated using TSL1.2

Compliant with the EN 303 645 (ETSI) security guidelines, which is set to form the basis of future regulatory requirements for IoT products in the UK and European market.

Optional Features

Energy Module

Smart Energy Tariff Integration (available where energy provider tariff API is available) - automatically charge up your hot water storage using low cost periods (renewable energy such as wind, solar etc).

Long term energy data logging (cloud). Logs energy and time when electricity is consumed and also logs when heat energy is extracted in applications where thermal storage is a factor.

Online thermal modelling of customer plant or process (heat capacity and thermal loss estimation for process organisation).

Energy savings analyser

Condition Monitoring

Multiple device management on multiple sites

Relay actuation monitoring and alarms

Process heating degradation over time

Element degradation, scaling or sludging

Maintenance scheduler

Simple Logic Functions

Graphical blocks for configuration of simple logic

Basic PLC functions

Download to your device from the web

Variations & Technical Specifications







HRDc-21J3-11111V1

HRDc-21P3-11111V1

HRDc-21J5-11111V1

HRDc-21P5-11111V1







All features

PT100

Stand alone plus thermocouple

PT100 Stand alone

 

 

 

 

Inputs













PT100 (2 wire)

1

1

1

1

PT100 (3 wire)

1

1

1

1

Thermocouple input

1

X

1

X

0-10V

1

1

1

1

4-20mA

1

1

1

1

Outputs

SSR 5VDC-240V AC, max 120mA (to ext. contactor)

3

3

3

3

Internal Relay - EMR 5VDC-240V AC, max 5A

1

1

1

1




Comms




Modbus-RT

1

1

1

1

RS-485

1

1

1

1

Ethernet (RJ45 connection)

1

1

1

1







IoT Service










3 year software/firmware maintenance

1

1

1

1

Android config. app (local network)

1

1

1

1

3 year enhanced software features

1

1

X

X

Energy management module

1

1

X

X

Condition monitoring module

1

1

X

X

Logic function module

1

1

X

X