HRV Vat Industrial Heaters
The HRV range from Heatrod Elements is a bespoke product designed for heating vats and tanks. This product is specifically designed for the solution/medium it is intended to heat.
Due to the wide range of applications for this product, each heater is designed to be the optimum watts density and power for the solution/medium being heated. For example vat heaters used in oils require a very low watts density compared to water or the heater may get too hot and burn the oil. Our proven range of products are used within a vast range of industrial heating applications and are designed bespoke to customer requirements (let us do the hard work!). We recognise that industrial applications require a high level of reliability and availability is key for this environment.
Please see some examples below. If the solution you require is not listed please contact us.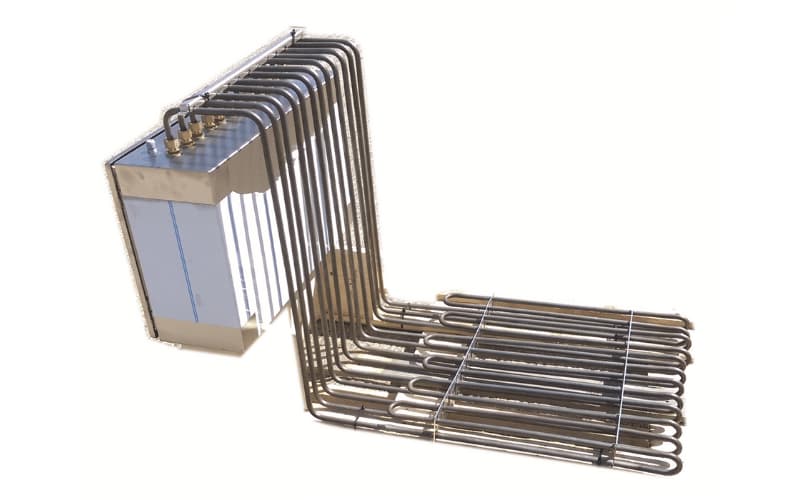 Steel strip manufacturers
Wire & tube manufacturers
Metal finishers
Chemical plants
Galvanising industry
Aerospace industry
Chemical millers
Glass producers
Jewellery industry
No drain down required when replacing
Robust contraction
Over-the-side mounting
Slim to minimal tank obstruction
Compatible with Braude Master Controllers
Features:
Metals sheathed (based on chemical compatability)
IP65 head with flying lead
Hanging brackets available
Choice of configuration to order
Heatrod also offer digital and mechanical controls for the HRV range which can be included in the mounting box provided with all heaters. This gives customers a turnkey product which is ready to install. Alternatively if there are numerous heaters being installed we can offer a standalone control panel to allow the heaters to be controlled via a central control panel, which can then be mounted alongside existing panels.

The controls can vary from basic control function i.e. on/off, or can include timers, solid state relays and contactors to improve efficiency and reduce noise.